Publications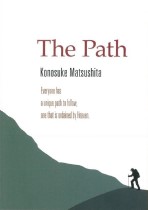 THE PATH (2018)
Sold more than 5.5 million copies over the past 50 years in Japan, this long-standing book gives readers enduring insights by Konosuke Matsushita into how to live a meaningful life as a human being. His time-tested thinking will surely be a useful guideline when making decisions in the course of your life.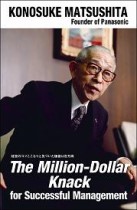 THE MILLION-DOLLAR KNACK FOR SUCCESSFUL MANAGEMENT (2012)
This book summarizes Konosuke Matsushita's timeless essentials of business management gleaned from more than 60 years of business experience. As you will learn from Matsushita, "Grasping the knack of management is worth a million dollars."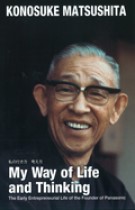 MY WAY OF LIFE AND THINKING (2011)
This is an autobiography that provides insight into his approach to life and philosophy of management and is a testimony to his lifelong pursuit of entrepreneurship, leadership and an idealistic vision that began at an early age. The implications of his story are powerfully relevant today to people seeking to question what it is to live a meaningful life.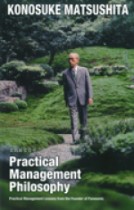 PRACTICAL MANAGEMENT PHILOSOPHY (2011)
This book sets forth his basic thoughts on how to manage an enterprise based on 60 years of experience and lessons learned. It is a compilation of practical lessons, which will surely create the foundations for success for any company.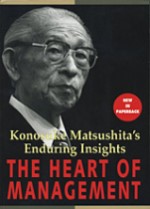 THE HEART OF MANAGEMENT (2007)
How did Konosuke Matsushita concretely deal with the full range of functional areas and concepts of corporate management, including basic management principles, organization, product development, production, sales, accounting, and personnel? This volume attempts to answer those questions by presenting a compendium of good management.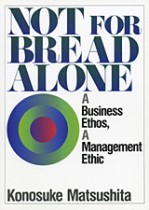 NOT FOR BREAD ALONE (1984)
Selection of 71 essays culled from experiences described in 4 books Konosuke Matsushita published in Japanese. Not for Bread Alone is the ideal reference for anyone running a business. It provides a balanced and thoughtful look at the ethical and business issues facing every manager today.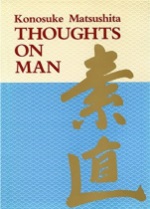 THOUGHTS ON MAN (1982)
This book will give us hints and ideas to the question "What is man and how should man act in society?" He said, "I have limited my discussion in this volume to what seems to me to be the most basic and important aspects of man. I sincerely hope that this book will make a small contribution to the realization of peace, happiness and prosperity."